For some more Scott Joplin fun, here is a Scott Joplin printable Word Search.
Scott Joplin Word Search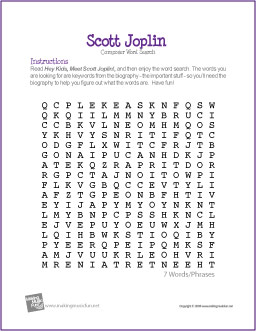 To complete the Word Search, first read this Scott Joplin Biography (look for keywords – in blue)
Scott Joplin Biography
Once you have read the biography, you are ready for the word search. Word Search from Bio:
Scott Joplin Bio Word Search
Best of Scott Joplin Playlist
At first listen, you might think that much of Scott Joplin's music sounds very similar. I think this is common when hearing a new style of music that you are not used to. After all, most all of his music is ragtime.
I bet that someone who has never heard current pop or hip hop music would feel the same way!
But, the more you listen, the more you can hear unique things that remind you of different styles of music. You will hear elements of all the different styles of music that influenced Scott Joplin's compositions, such as folk music, blues music, classical music, polka music, ballet, and opera.
And, later works of Joplin's also give us ideas of how music will evolve. Did you know ragtime music came before jazz? Can you find some jazz-like elements in Joplin's music?
Since you have already heard the biggest hits like the "Maple Leaf Rag" and "The Entertainer", I encourage you to skip ahead to pieces like "Rag Medley 6" (with the Pineapple Rag), "Bethena", "Pleasant Moments", "Magnetic Rag", "Elite Syncopations" and "The Chrysanthemum".
There really isn't a bad song on the list, but those are some that I find the most interesting.