It's time for some fun Mozart activities!
There are two types of activities below. The coloring pages might be more exciting for the younger ones (K-2). The word searches might be better for the older ones (3-5). But, anyone can do whichever appeals to them most!
Mozart Coloring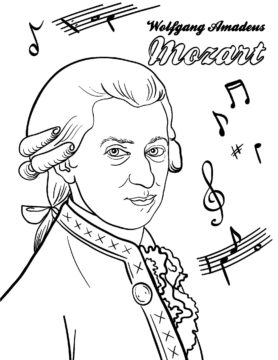 Color Online or Print:
Mozart Coloring Page 1
Mozart Coloring Page 2
Print Only:
Mozart Coloring Page 3
Mozart Coloring Page 4
Mozart Word Search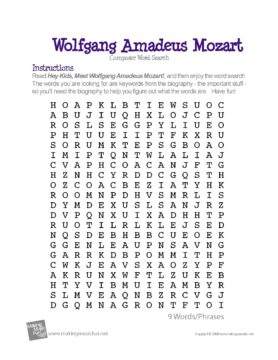 Read Bio (look for keywords – in blue) Mozart Bio
Word Search from Bio:
Mozart Bio Word Search
Another Word Search (do online or print):
General Mozart Word Search

Song of the Day
Today, we will listen to a portion of an opera by Mozart called…
"Marriage of Figaro"
In the recording, you will notice that you will just hear instruments. However, Marriage of Figaro is in fact an opera, which is like a play, but the actors sing the dialog. The reason you will not hear singing in this recording is that this part is what is called an "overture", which is just like an introduction.
In Italian, Marriage of Figaro is written "Le nozze di Figaro".
Want to hear more? The full opera only has 59 separate songs and is just 2 hours and 37 minutes. Think you can handle it? Listen now!