For some more Beatles fun, today there are two new activities for you to try at home: a printable Beatles paper toys and a simple Beatles quiz.
Beatles Paper Toys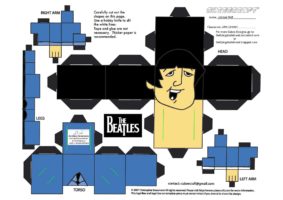 For some more at-home fun, here are four unique do-it-yourself paper toys, one for each one of the Beatles.
Download the paper toy templates:
John Lennon
Paul McCartney
George Harrison
Ringo Star
Beatles Quiz
Test your knowledge of the Beatles! Take this simple 7 question quiz to see if you can remember what you learned this week.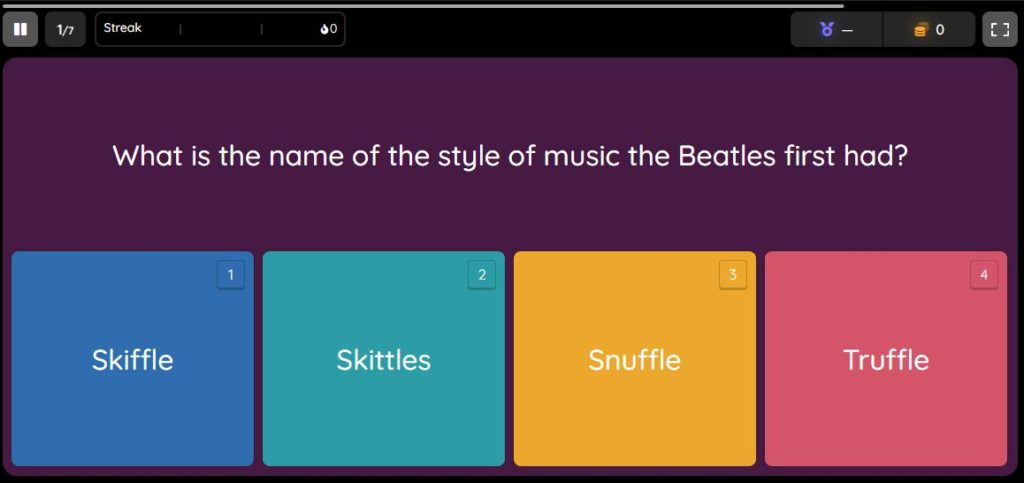 Song of the Day
And now, things get interesting! (as if they weren't already).
Let me introduce you to the song…
"Strawberry Fields Forever"
When the Beatles first started touring, they created way more music than most groups. They had a record number of top hits. And, they did this all while performing daily concerts and being mobbed by the Beatlemania fans!
In 1967, after the Beatles stopped performing concerts, they spent a lot more time in the recording studio. But, what they didn't do is just write a whole bunch more songs. Instead, they gave us less, but far more creative music.
I call this last phase for the Beatles their "experimental" phase.
And, the first song of this phase, Strawberry Fields Forever, is a prime example of the devotion they gave to each and every song.
Strawberry Fields Forever took the Beatles 45 hours to record, spread over 5 weeks. They ended up recording at least 26 different versions of the song, 4 of which were published, and two of which were combined together for the final, official version.
There is a lot to be said about the process in which this song was created and the effects used. But, perhaps the most interesting thing about this song is just how different it is from any other music The Beatles ever had created before. In listening to it, you will notice some very strange sounds. In some cases, these will be electronic sounds in the style of psychedelia. In other cases, these will be the sounds of an Indian instrument called the sitar.
The words are also quite unique. While they continue to be deep and "introspectional", they are now also much less direct and less clear in meaning. The idea is leave the listener thinking much harder about the message of the song and leave some questions for the listener to answer on their own.
If Strawberry Fields Forever had been written during the "introspectional" phase of the Beatles, the lyrics might have been something like…
How I wish I was a child again
In Strawberry Fields with friends
As a man, no one seems to get me
But, don't worry, I'm carefree
Instead, the Beatles wrote phrases throughout the song like:
Let me take you down…to Strawberry Fields
Nothing is real, And nothing to get hung about
Living is easy with eyes closed
Misunderstanding all you see
…But it all works out
No one I think is in my tree
I mean it must be high or low
…But it's all right
Bizarre. But, it definitely gives you something to think about!
Here is the song to listen to:
Want to hear more? For the experimental phase of the Beatles, I am splitting up the extra listening playlist into two smaller sections. Today's playlist consists of some of their most unique works, inspired by psychedelia and Indian music. Listen now!