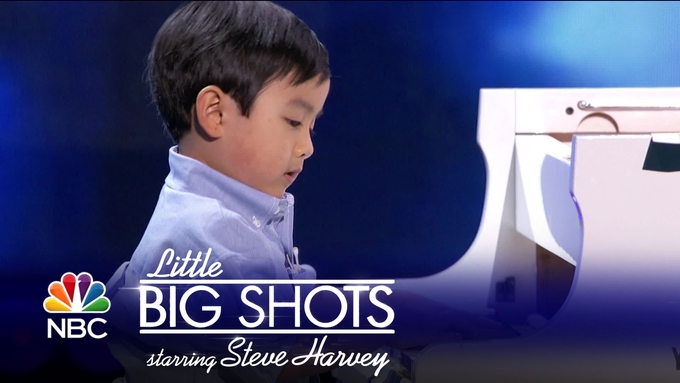 As an instructor who teaches students of all ages, I have truly come to appreciate the value of learning music at any age. The beauty of music is that it is such a broad concept, beyond just learning an instrument. Anyone can learn music, regardless of talent, intellect, maturity, or attention span.
For students less than 6 or 7 years old, music education tends to be less about learning to play actual notes and more about developing an overall appreciation for music. We spend a lot of time clapping rhythms and singing melodies before trying it on the instrument. And, to make it easier to play basic tunes, musical notation is often color-coded to match stickers on their instrument.
But, while thousands of 4-year-old students are still learning to find the right keys for a simple 5-note tune like "Three Blind Mice", Evan, the boy in the video below, is playing pieces of music many advanced players still struggle with:
(And, did I mention he does it from memory?)
Unfortunately, NBC has removed this video from YouTube. I will check regularly to see if it re-appears online. In the meantime, continue reading this article and then check out other inspirational videos and audio recordings I have posted on this site!
Child prodigies are nothing new. Did you know that Mozart was considered an accomplished musician on both piano and violin at just the age of 4? And, Beethoven was only 7 when he gave his first performance.
Be that as it may, child prodigies are a rare breed and do tend to make us sulk in a feeling of insignificance. Even the host of the show, Steve Harvey, made it a point to apologize to his 7 children for not raising them to achieve the same level of talent as the boy pianist.
But, of course, he was only joking. And, there is much to be learned from little Evan:
1) Nothing is impossible
Sometimes the biggest challenge in regards to learning an instrument is simply getting past the misguided belief that you can't do it. Anyone can learn to play like Evan. Anyone.
2) Learning takes passion
I don't know Evan's history. His success in 6 months could be purely attributed to his talent. Or, he may have parents that urged him to sit at the piano for hours a day and go through a rigorous training course. Whatever the case, he wouldn't have developed any skills at all if he wasn't passionate for playing the piano. You have to want to learn.
3) Most of us need a significant amount of discipline
Chances are, Evan did too. This is true regardless of whether he went through the tradition steps of learning music—starting with notes on paper, then playing the notes on the instrument, and finally committing the pieces to memory—or he started by imitating the notes he heard on a recording and skipped over the whole learning sheet music process (a.k.a. "learning by ear").
Either way, it had to have taken Evan a significant amount of time to learn how to play the pieces he performed in the video above. Even if that amount was less than the average person, it was still time he could have been spending playing with his toys, chasing his friends around the playground, or doing whatever else the average child would do.
We all choose how to spend our time. And, to many the choice to spend time working at something challenging is not an easy one. If you want to learn to play music to the same ability as Evan, you need to have the discipline to spend a significant amount of time working on your instrument and practicing the difficult parts over and over again.
4) You are never too young (or old) to start
Music has no age limit. Our bodies love music. Our brains are stimulated by the sound of it and our hands and feet are driven to move to it. Music relaxes us, motivates us, and makes us smarter and more productive. There is no reason to not get started learning music today!
It's not too early (or too late) for you or your child to learn to play!
Call 310-876-2141 and I'll get you started learning to play with your first music lesson.
Private Music Lessons are available In-Person in the
Los Angeles area and Online anywhere in the World
Click Here to Learn More