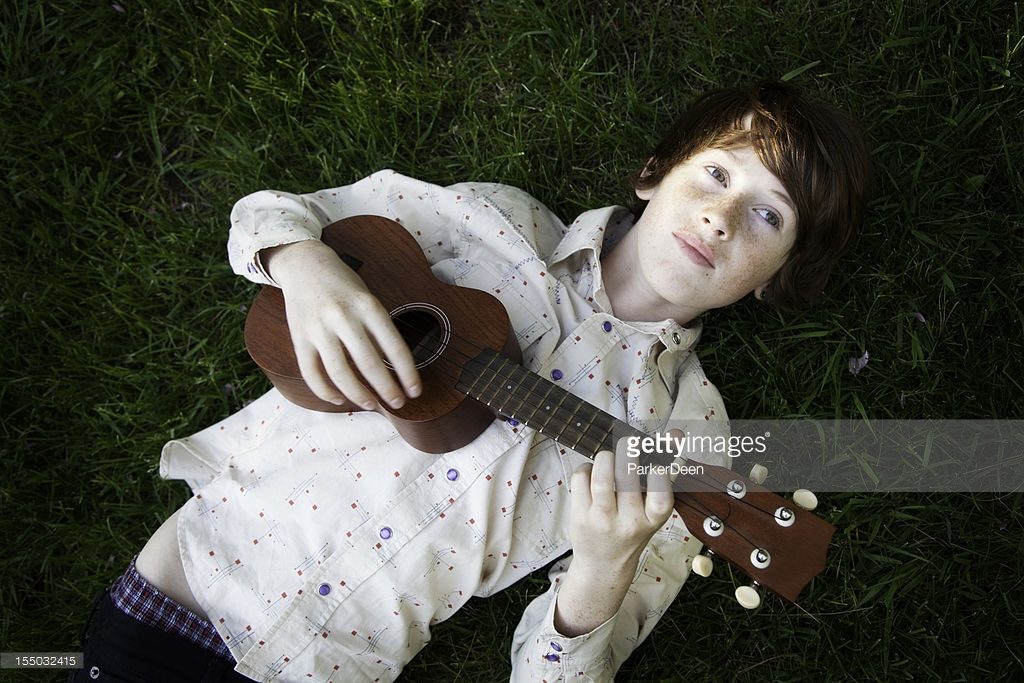 Over the past couple months, students at Open School have been introduced to new and exciting instruments. And, in the last few weeks, we began putting the instruments in their hands.
The fourth and fifth grade clusters have a special treat: ukuleles!
Over the course of this year, we will be learning all about the ukuleles including their history and some great musicians who played ukulele. But, perhaps most importantly, we will be learning to PLAY the ukulele.
This is a very exciting time for most, if not all, the students in my class. And, not-surprisingly, I have already received a lot of questions on how to take this excitement home.
The follow are some recommendations on ukuleles to purchase for home practice.
In class, we are using soprano ukuleles, which are both the smallest size of the ukulele and the most commonly used ukuleles in Hawaii. Just as we have a wide variety of levels of students in the class, there are a wide variety of ukulele brands and model to choose from at a reasonable price. Below, I have included only the most basic, beginner-level soprano ukuleles. In the near future, I will write about some better ukuleles for the more intermediate and advanced players.
Students are not in any way required to have ukulele for home practice. However, students who do practice at home will excel more quickly in class and will typically be given more fun and challenging parts to play with the group.
Please Note: I have not tested all of the instruments and options recommended below. I have chosen these recommendations mostly based on three factors: included features, overall perceived value, and word-of-mouth/online reviews. I encourage everyone to do their own research before making a purchase.
If you indeed choose one of the options listed below, please use the links in this post to make your purchase. A small portion of the purchase amount will go towards a budget for improvements and upgrades to the instruments used at Open School.
Another quick, but important note: Many ukulele reviewers take off stars if the instrument is not in tune out of the box or does not seem to stay in tune within the first few weeks. However, stringed instruments will never be in tune when they are first opened as keeping an instrument in tune during shipping could damage it. Also, all strings need to be properly stretched or played extensively before they will hold the tuning for a considerable amount of time. I plan to post more about this later, but in the meantime, you should expect that any stringed instrument will need to be tuned frequently for the first few months of use.
The Ultimate Starter Ukulele
Mahalo Ukuleles MK1TBS Kahiko Series Soprano Ukulele
This is most definitely the cheapest ukulele worth considering. At just $22.99 for the butterscotch colored version of this model, it has decent reviews and all the features a ukulele must have to be functional.
It even comes with a case, which is incredibly helpful for transporting the instrument.
You have 4 different colors to choose from: Butterscotch (which, from the reviews, seems to be just yellow), Brown, Blue, and Red. However, the blue and red colors are more expensive and almost not worth the price for the quality of the instrument. While I'm sure these ukuleles work great, to me they look a bit more like toys than actual musical instruments.
If you plan to spend almost $35, I would recommend considering a different brand/model below that is a bit better built and has the look and feel of a genuine instrument.
The Most Affordable Natural Wood Ukulele

It may seems silly, but when purchasing the ukuleles for school, one of my main priorities was finding ukuleles that looked like a serious instruments. It is one thing to have a colored ukulele, but if it looks like a toy, students are more likely to treat it as such. I wanted the ukuleles I purchased to last years, not weeks.
Having a more natural wood finish on the ukulele goes a long way toward establishing the impression that the instrument is the real deal.
This instrument starts at just $25 for a simple mahogany finish. It does not include a case or other accessories, but for just $10 more you can get a more decorated ukulele with a case included.
In fact, all within a $35-$40 range, Coocheer makes a few quite pretty ukuleles with etched decorations around the sound hole. However, case and accessories are not included at this price for the more fancy versions.
The Kit with the Most Color Options
Hola! Music HM-21 Soprano Ukulele Bundle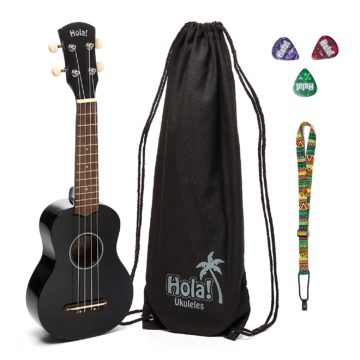 To clarify, I don't believe all colored instruments look like toys. Only the most basic ones.
Here is the most affordable line of colored ukuleles that I believe is worth considering.
You have 10 attractive colors to choose from. And, for just about $35, you get a carrying bag, a strap, and picks.
Like all the ukuleles around that price point, it still has a glossy finish. And, the carrying bag is simply that: for carrying, with practically no protection.
However, the Hola! brand offers beautiful ukuleles for $25 more with a wood grain finish and a nice padded case for added protection in transit.
The Best Value Beginner Ukulele for Your Dollar
Everjoys Soprano Ukulele Beginner Pack-21 Inch w/ Gig Bag
At almost $40, this will be the most expensive ukulele I will list here. However, it comes with so much more than all the other options.
It has a nice padded case, a pick, an extra string, a digital tuner, a cleaning cloth, and even an instruction book.
Assuming it's decent quality, the digital tuner will be especially helpful for new beginners. Tuning is a necessity for making sure the music you play sounds as it should.
Clearance & Used Items
If these ukuleles don't quite cut it for you, but you don't want to spend much more than $35-40, there are many places to get used ukuleles at a steep discount. The most important things for a beginner ukulele are:
1) quality tuning pegs (you should see gears on the back of the head)
2) a way to secure strings tightly in the bridge (below the sound hole), so they don't slip
3) a carrying case (if you plan to take it out of the house)
There many great brands including Martin, Fender, Kala, Mahalo, Makala, Luna and Lohanu.
Guitar Center is a good place to start, especially since you can then pick up the keyboard locally. Also, check their Clearance and Outlet (open box) sections for special deals on new(er) items.
Craigslist also has a lot of great deals. Just be safe and avoid scams.
Musician's Friend also has several categories to check out. They have open box sections for Ukuleles. And, they have regular "Hot Deals" and Clearance items.